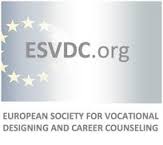 ESVDC The European Society for Vocational Designing and Career Counseling ESVDC was founded in 2011 in order to stimulate and promote European and international collaboration in research and development in the fields of life-designing, vocational guidance and career counseling. It brings together existing networks of researchers and networks of academic teachers in these fields, in order to facilitate the emergence of a new generation of specialists all over Europe. ESVDC reinforces the identity of European scientists, by sharing information, ideas and projects, by creating a program of post-doc exchanges, by offering access to high quality expert resources and by enhancing sustainable long term developments in life-designing and career counseling. Among work in progress, the creation of a marketplace for research projects and job or exchange opportunities for young researchers and establishing relations with other associations, institutions or policymakers are under way.
---
NICE – the Network for Innovation in Career Guidance and Counselling in Europe – currently includes 45 Higher Education Institutions from 29 countries across Europe.
NICE is dedicated to professionalism and academic excellence in Careers work across all sectors and at all levels. It has been working towards the goal of sustaining and strengthening cooperative efforts in Careers research and education since the initial funding from the EU Commission in 2009. The network has already published extensive guidelines on the academic training of career guidance and counselling professionals, which it aims to fine-tune and implement in the future.